Prof. Marco Zanetti
Associate professor
SSD: CHIM/04 - chimica industriale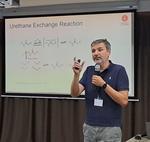 Contacts
011/6707547
011/6707855
Via Pietro Giuria, 7 - 10125 Torino
At
Department of Chemistry
Dipartimento di Chimica
Corso di Laurea Magistrale in Chimica Clinica Forense e dello Sport
Corso di Laurea Magistrale in Chimica Industriale (Classe LM-71 D.M. 270)
Corso di Laurea Triennale in Chimica e Tecnologie Chimiche
Doctoral School of Sciences and Innovative Technologies
Dottorato in Scienze Chimiche e dei Materiali
PhD Programme in Innovation for the Circular Economy
Curriculum vitae
Curriculum Vitae (0.5 MB)
Research topics
Polymeric nanocomposites: synthesis and study of the morphology, thermal properties and combustion of polymeric nanocomposites, in particular the effects of nanofiller such as phyllosilicates, carbon nanotubes, graphene, nanosilica and POSS. In the case of carbon nanotubes, I was also involved in the synthesis processes and in the conductive and piezoresistive properties of the obtained nanocomposites.
Processes of polymers carbonization: one of the fundamental aspects underlying the polymer combustion processes and consequently of the flame retardation strategies are the carbonization processes that occur in competition with the pyrolysis processes. Taking care of flame retardant, I focused on the study of carbonization mechanisms evaluating the effects on flame retardant formulations. More recently, these studies led me to consider these processes in terms of nanostructured carbon materials production.
Nanosponges: development of hyperbranched polymer based on Cyclodextrins end other oligosaccharides.
Polymers electrospinning: production of polymer micro and nanofibers and their applications both in the biomedical field, for the realization of cellular scaffolds, and as templates for the realization of nanostructured oxides.
Additive manufacturing of polymers: 3D printing of polymers via fused deposition modelling (FDM).
Biomedical applications of polymers: in the biomedical field I participated in research activities concerning the use of UHMWPE in orthopaedics, studying its degradation as a result of sterilization treatments, and TPUs used in orthopaedics, studying their morphological properties and degradation in vivo.
Research groups
Research projects
Activities in agenda
Academic bodies
Office hours
Gli studenti sono benvenuti tutti i giorni, compatibilmente con gli impegni accademici. Si consiglia di contattare il docente telefonicamente o via e-mail.

Responsabile del laboratorio Smart Factory Lab del centro interdipartimentale per l'innovazione ICxT
Comitato Scientifico centro interdipartimentale NIS